Welcome to Oaklee Lettings Bury
Are you a landlord looking for tenants and a superb service at a great price from a lettings agent?
Anne the director at Oaklee Lettings has a lifetime's experience in the lettings industry with established agents in the Bury area. She offers a service that's completely dedicated to lettings - not combined with sales.
This means she can concentrate on all aspects of renting out property full-time. As a seasoned lettings' professional, Anne has an in-depth understanding of the market and can offer all the advice and support necessary. And it's her personal, and friendly, touch that makes all the difference. All geographical areas are covered, and short and long term tenancies can be agreed, as well as full property management.
We are open six days a week (Saturday viewings only) from Monday to Friday, 9am until 5pm, and Saturdays from 9am until 12noon. Anyone looking to rent a property will feel at home at Oaklee Lettings, too, thanks to the dedication to matching the right property with the right tenant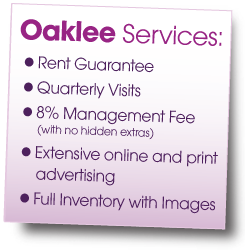 Call us now 0161 762 1127